About
Mirror Of Connection is a course project of Human Computer Interaction in Spring 2022. The aim for this course project is to learn and practice UX design principles and techniques, therefore, the focus is placed more on the research and exploratory design process, instead of the final production. Although the final deliverable is a very low-fidelity design prototype and design concept, our team gain lots of in-depth understandings both in the overall design process and the project topic - long-distance relationship.
An Elevator Pitch
The Mirror of Connection presents a new way of online companionship for long-distance couples.
The Mirror of Connection enables long-distance couples to enjoy each other's presence as if they were in the same room. With a choice of modes that enable different viewing combinations of you and your partner's space, and with design that prioritizes privacy and comfort, this wall-sized portal enables meaningful quality time that has previously only been possible when in person.
The Problem
Via user interviews, we found that partners often had to make changes to their relationship once they went long-distance. These changes surrounded breakdowns in communication that affected trust, boundaries, and relationship longevity.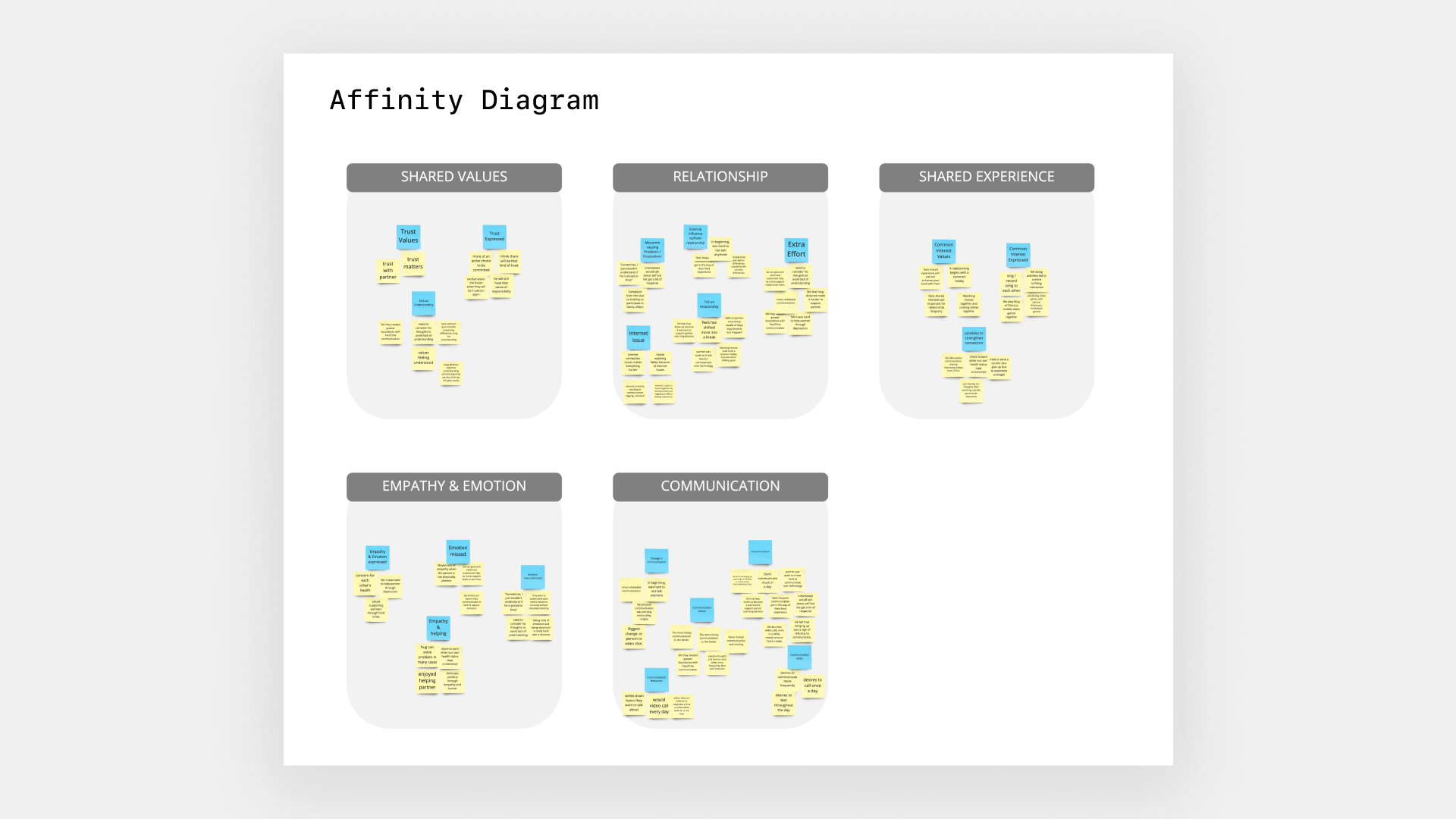 A common thread was some kind of deep and important meaning being lost in communication when it switched to virtual formats. Long-distance relationship couples would attempt to use communication apps such as FaceTime, but found communication more taxing and limiting - some are of logistical reasons (such as limitations of devices and internet bandwidth) while others emotional.
Those emotional barriers include failing to understand the mood of partners, differences in extroversion, inability to participate in each other's lives, and a difficulty in supporting each other. It was also found that there were very few, if any, specific solutions to these communication barriers and difficulties. 
The Idea
Through internal brainstorms and analysis of existing solution space, our team decided on the idea of a giant mirror that acts as a portal connecting the two distanced spaces for long-distance couples.
We would like to experiment on the simple idea of just "being there" for each other. The large size interface allows sharing of both spaces and faces, and an enjoyment of solely co-existing - not needing to keep a conversation going the whole time. Creating the impression of a shared space removes existing social expectations of FaceTime and Zoom as meetings, and allows for more relaxed and quality time for long-distance relationship couples.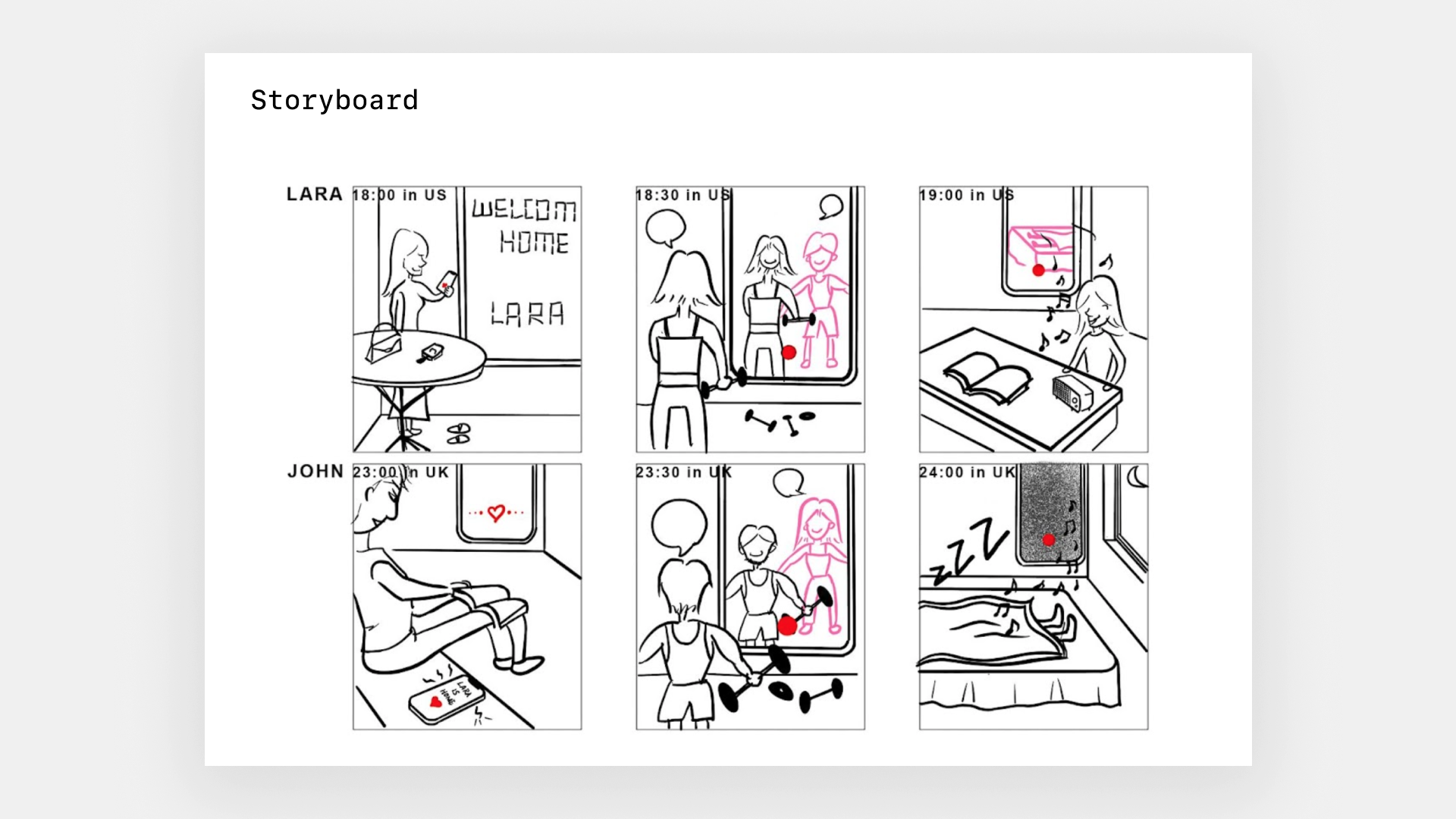 Prototyping
Prototyping is one of the fun parts of the project development process. Our team decided to use projections on the wall to imitate the giant mirror interface. In particular, the remote user (User B) would join a Zoom section with the current user (User A), and the body and background space of the remote user would be projected onto the wall, creating a virtual portal towards the remote space.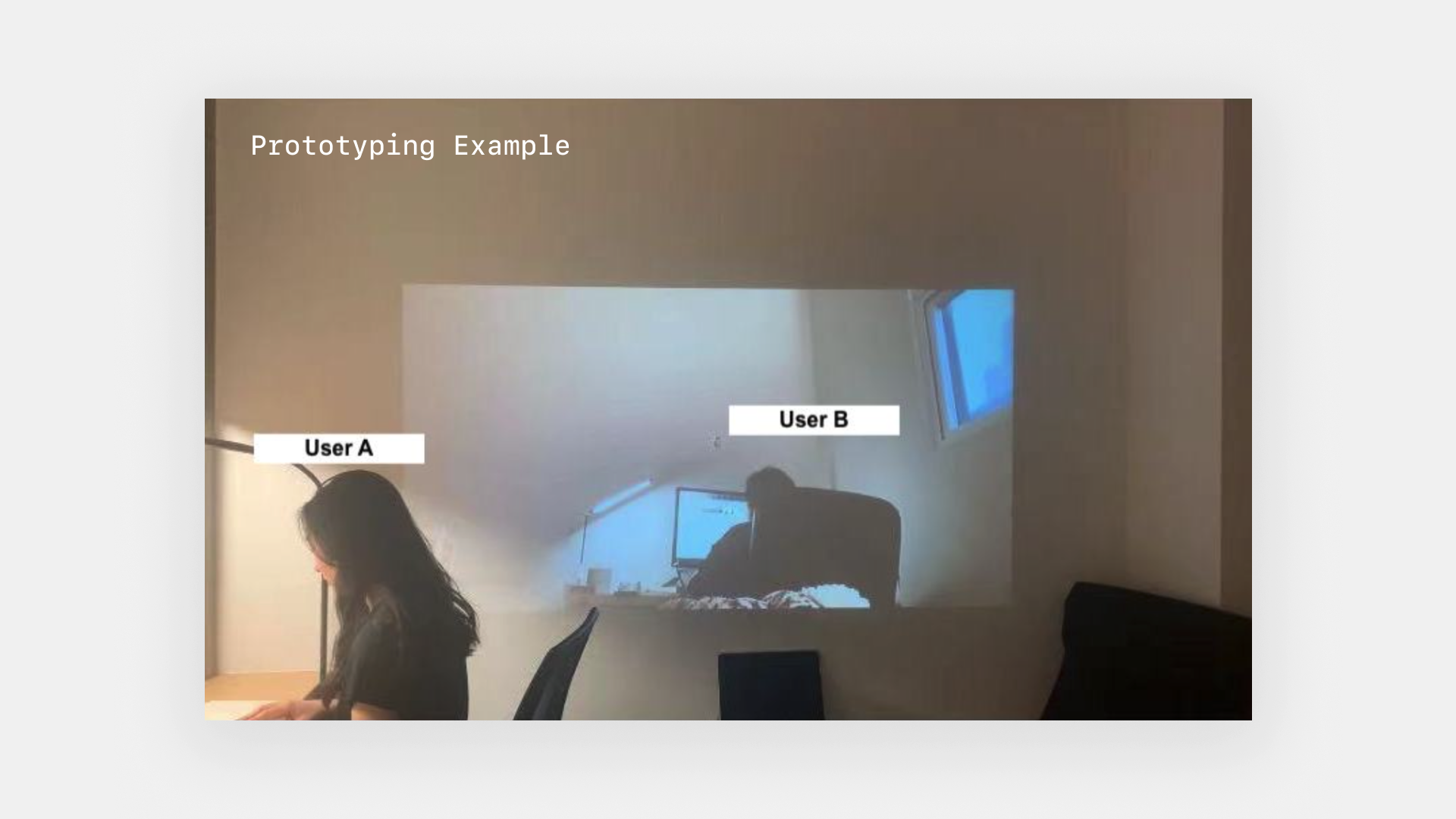 Testing
We then tested the prototype with 4 pairs of long-distance relationship couples. To our surprise, participants got really interested in this "giant mirror" with large shared interface. They could see enjoying this with a partner when they want to spend time but don't have things to talk about, "Sometimes I don't want to entertain".
Users also provided us with valuable feedbacks, from which we synthesized and make some adjustments to design details accordingly:
Privacy: users have privacy concerns about live streaming videos, this informed the design team to make sure the users feel safe and can turn off the whole product whenever they want.
Remote control: originally the buttons were designed physically on the mirror, users need to approach the mirror in order to control it. For a more convenient experience, the design team added a remote control feature, where users can use their mobile phone to control the mirror even when they are sitting comfortably in a couch.
Smooth transition: some users complained that the transition between different modes are sudden - the interface just blacked-out suddenly when the sharing ends. This informed the team to implement more smooth transition effects for a more gentle user experience.
Final Showcase Video
Closing Reflections
From Kay :

"I really like the dynamic of our project team. I am really grateful that every member in the team is so passionate about this topic about long-distance relationship. For me, the team project is not only a set of practices of HCI methods, but it is also a joyful and exciting process of creative problem-solving. I think this is going to be a very meaningful experience in my future path of UX design."
From Leo :

"I've enjoyed this process, as it's given me the theory and practice of a new means of problem-solving. While this class focused on designing a product, the approach of solving a problem after **seeking out information that you may be lacking is very useful in a variety of contexts. In particular, as someone who hopes to go into psychology research, which often involves qualitative interviews, the approach from this class that involved 'meaningful' interviewing questions and follow-ups is definitely something I will apply in my life and enjoyed practicing this semester."
From Yiting :

"Through this lesson, I systematically learned how to think from the user's perspective, identify pain points, and solve problems (after all, three of us in the group are experiencing LDR and all have the same problems). What's more, since we all came from different majors countries, I could feel the diversity that group members were good at and focused on. This diversity of backgrounds made us work together more smoothly. The direction of thinking and results were also diversified."
From Aditya :

"It was a pleasure working with this team, and the process helped me learn about my strengths and weaknesses. The entire team had the same vision and passion for the topic we chose, which helped us finish our tasks on time, and more importantly making it a fun and joyful process. There was never a single day where I thought one of us was contributing less than the other. We assigned one project leader per week, which made sure that one of us would step up in adversity."