Introduction
Upon my graduation from university, I collaborated with two teammates and created a WeChat web project "Graduation Album". This project intends to allow students to leave gift messages to each other, and to share their album in WeChat Moments during graduation.
🔗 Project Link(Please open in WeChat browser)
🔗 Introduction Article(Written in Chinese)
Background
This project was inspired from the classbook back in elementary school. When graduating, every student in the class writes down their contact information and gift message to all other classmates. When I was about to graduate from college, my roommate also handed me a classbook and asked me to leave her a note. At the time, I thought handwriting message was too "Old School" for me. So I came up with the idea of ​​making an "online classbook", which allows graduates to write gift messages to each other, and the book can be shared among friends and classmates.
Preparation
Having the idea in mind, I formed a small team with 2 of my Computer Science classmates, and started to work on this project. In particular, I am mainly responsible for the user interface design of the project.
Due to the limitation of time, the first version of our project provides only the most basic features: leave messages and share.
User Flow & Low-Fidelity UI Design: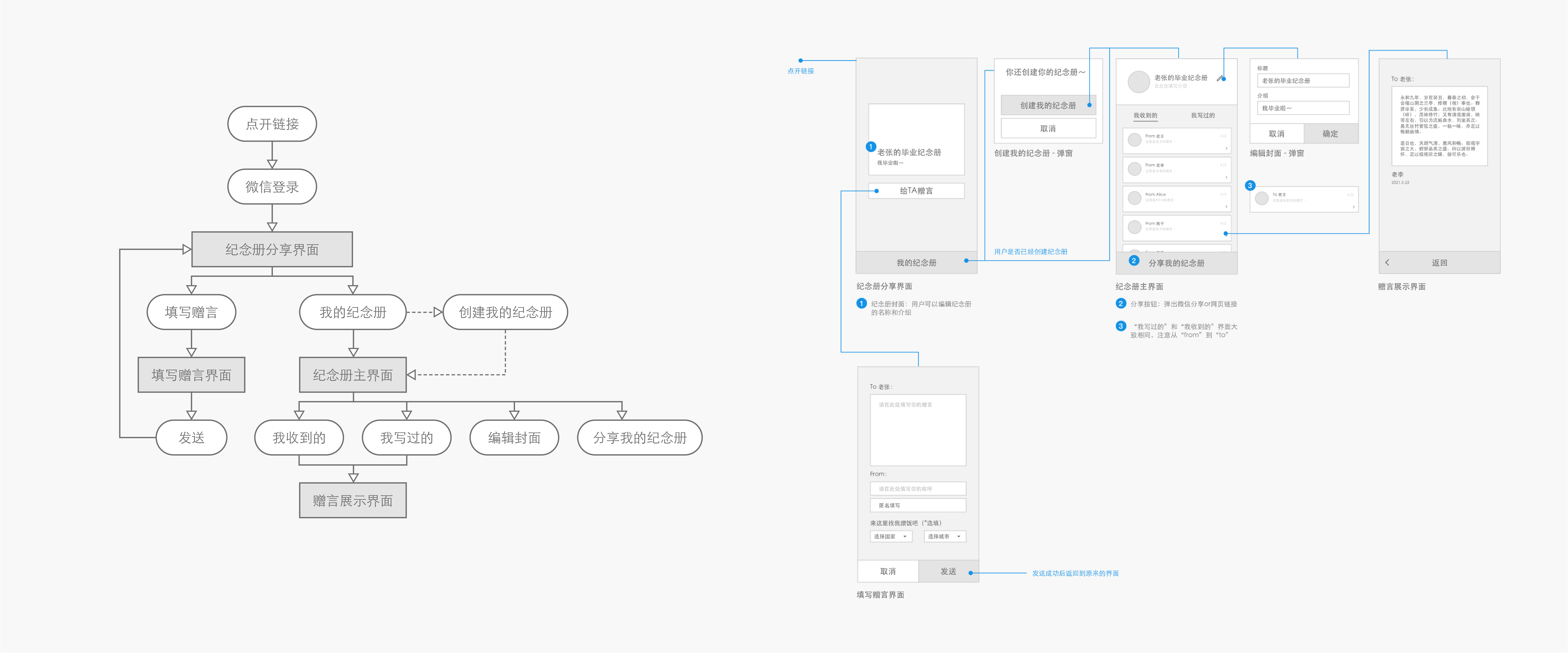 User Interface Design
In order to collaborate with the front-end developer more smoothly, I used Figma as the main tool for UI design. This is the first time I use Figma. I get started quickly with Figma since I have previous experience in Sketch and Adobe XD.
UI Design Style: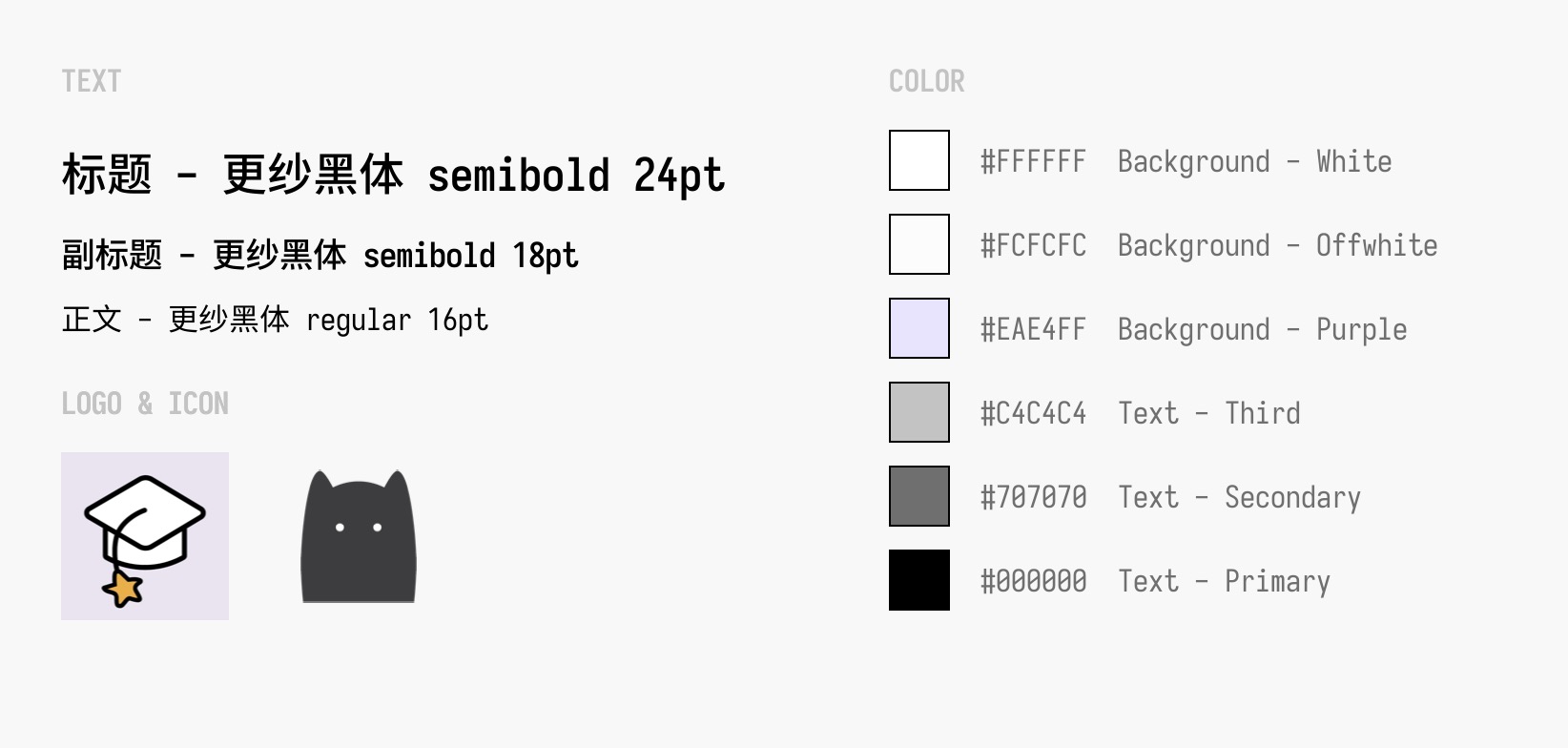 High-Fidelity UI Design for Main Pages: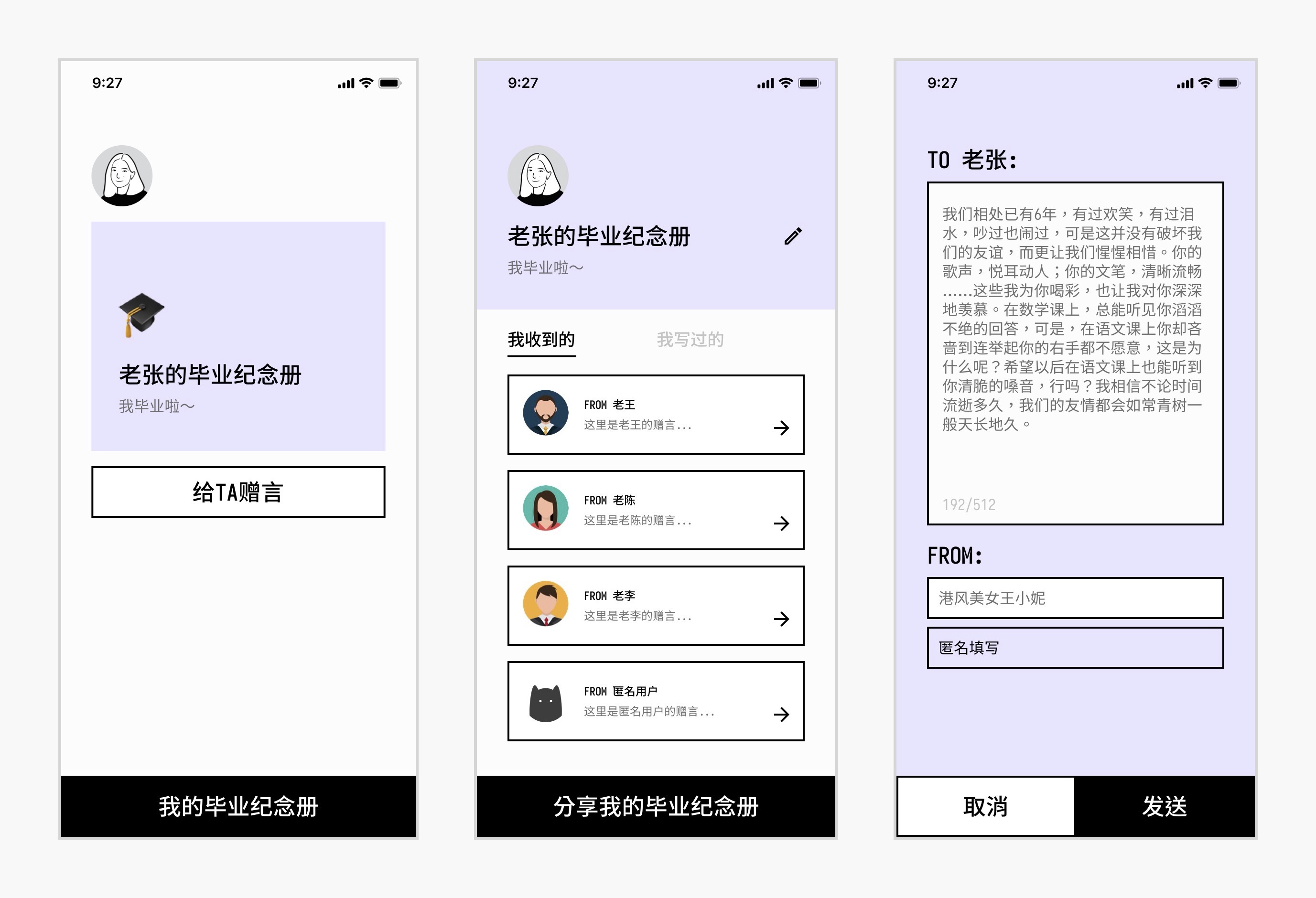 Final Demo

Future Updates
The very first version of "Graduation Album" was launched on May 21, 2021, and received more than 650,000 clicks during the 2021 graduation season. Based on some feedbacks, our team made some improvements and launched the second version in July. The new version allows students to reply on a message and export the album in pdf.
PDF Exports:

We are looking forward to more udpates and improvements in the future.
Acknowledgement
Special thanks to my outstanding classmates & friends & teammates: Guo Qicong and Xie Guochao. I would also like to thank Apartsa for providing us with the necessary server and operation support.